novembre 23, 2022
Industrie
Professionnels
LED, THE FUTURE IS NOW – Chimiver coating products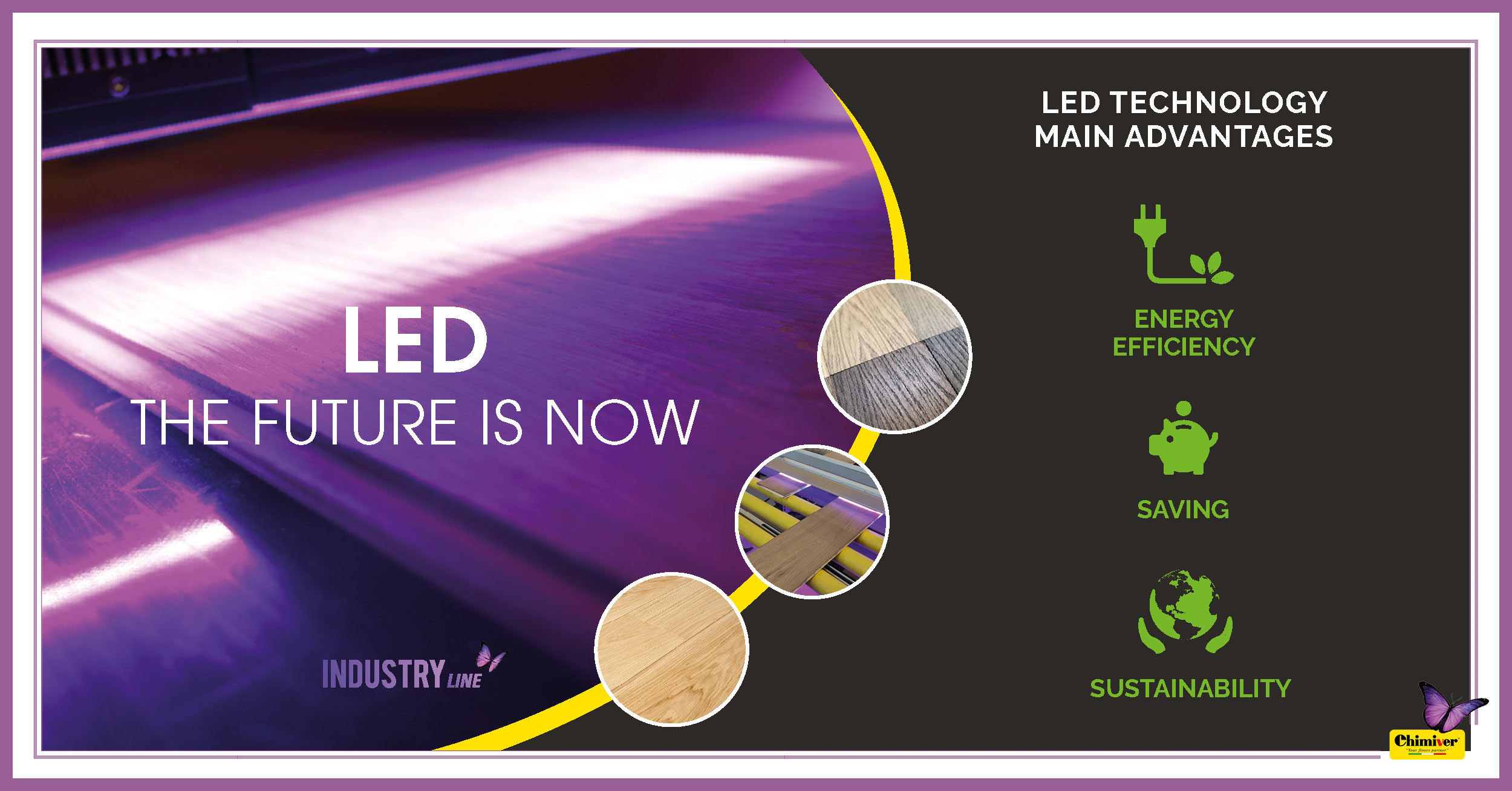 LED represents the present and the future for the hardening and drying processes of coating products. The parquet and wood coverings industries are increasingly in need of fast drying systems to reduce production times and related costs, making the most of the potential of new technologies must therefore be a priority.
The use of LEDs for the hardening of wood coating products
The use of specific coating products and the consequent photo-hardening through the use of LED lamps guarantees a series of advantages compared to the use of less efficient UV technologies, including:
significant energy savings: up to 85% less energy than traditional technologies;
no ozone emissions into the environment: unlike UV lamps, LEDs do not release ozone;
increase in the useful life of the lamps in the coating systems: the lamps last longer, therefore also the system block times and disposal problems are reduced.
A choice that therefore brings not only significant economic advantages but also great benefits for the environment, allowing to be aligned with increasingly demanding European regulations in terms of Sustainability.
LED photo-curing oils and coatings by CHIMIVER
Thanks to the work of its R&D laboratories, Chimiver can now offer a complete range of solutions specially formulated to fully exploit the advantages of LED technology.
These are oils and finishes of the highest quality avalaible both water and solvent-based, including:
Led Hard Wax Oil: oil-wax for parquet and wood coverings, able to give the wood a natural and soft touch. LED HARD WAX oil is a formulation that does not emit volatile organic substances (VOC free) and guarantees high wear resistance.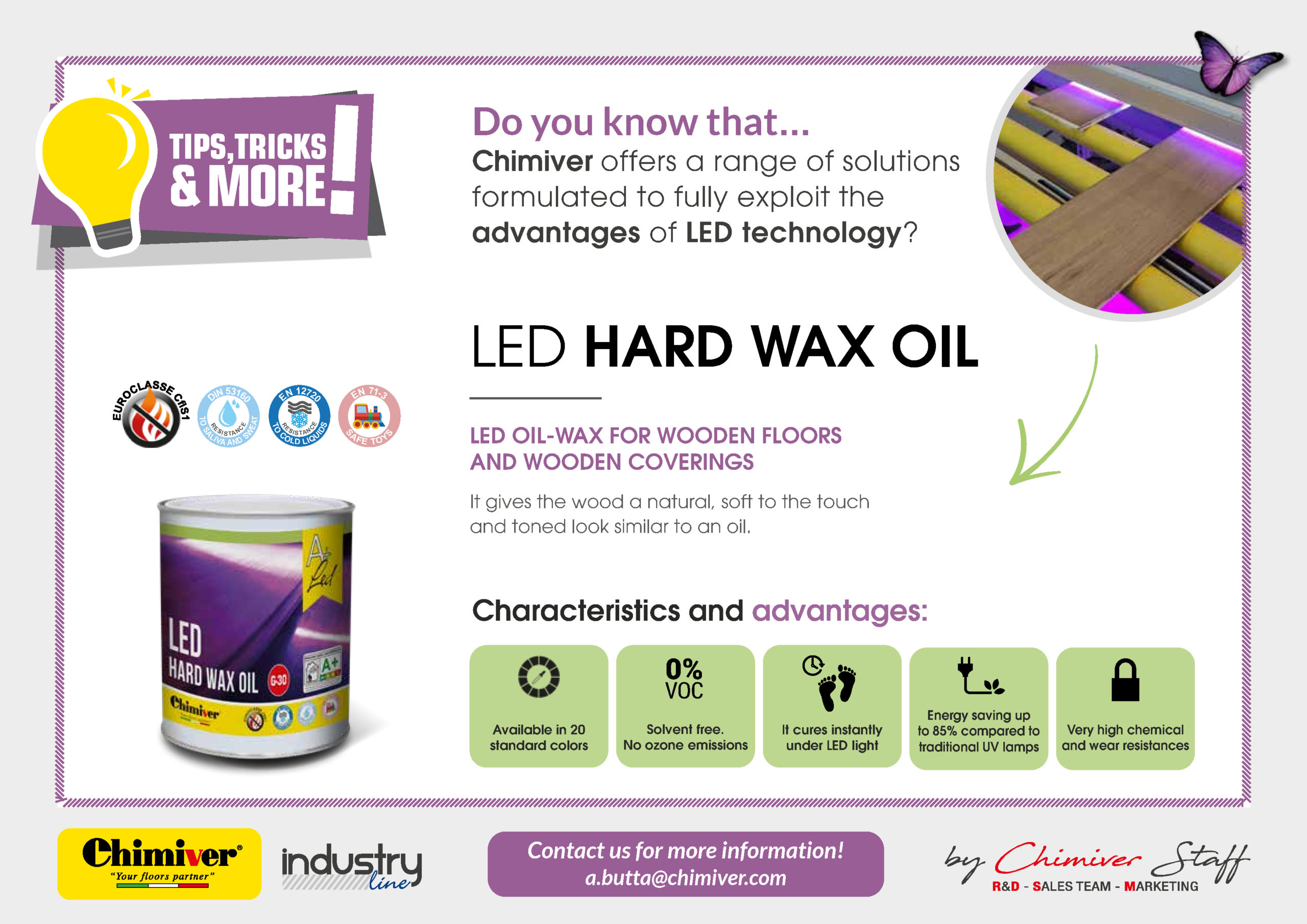 Finitura UW SV-LED 924: single-component water-based lacquer for wooden floors, solvent-free and characterized by an extremely rapid flash-off.
Finitura DC SV-LED 932: two-component solvent-based acrylic lacquer for wooden floors, which uses dual cure technology to ensure very high chemical-physical resistance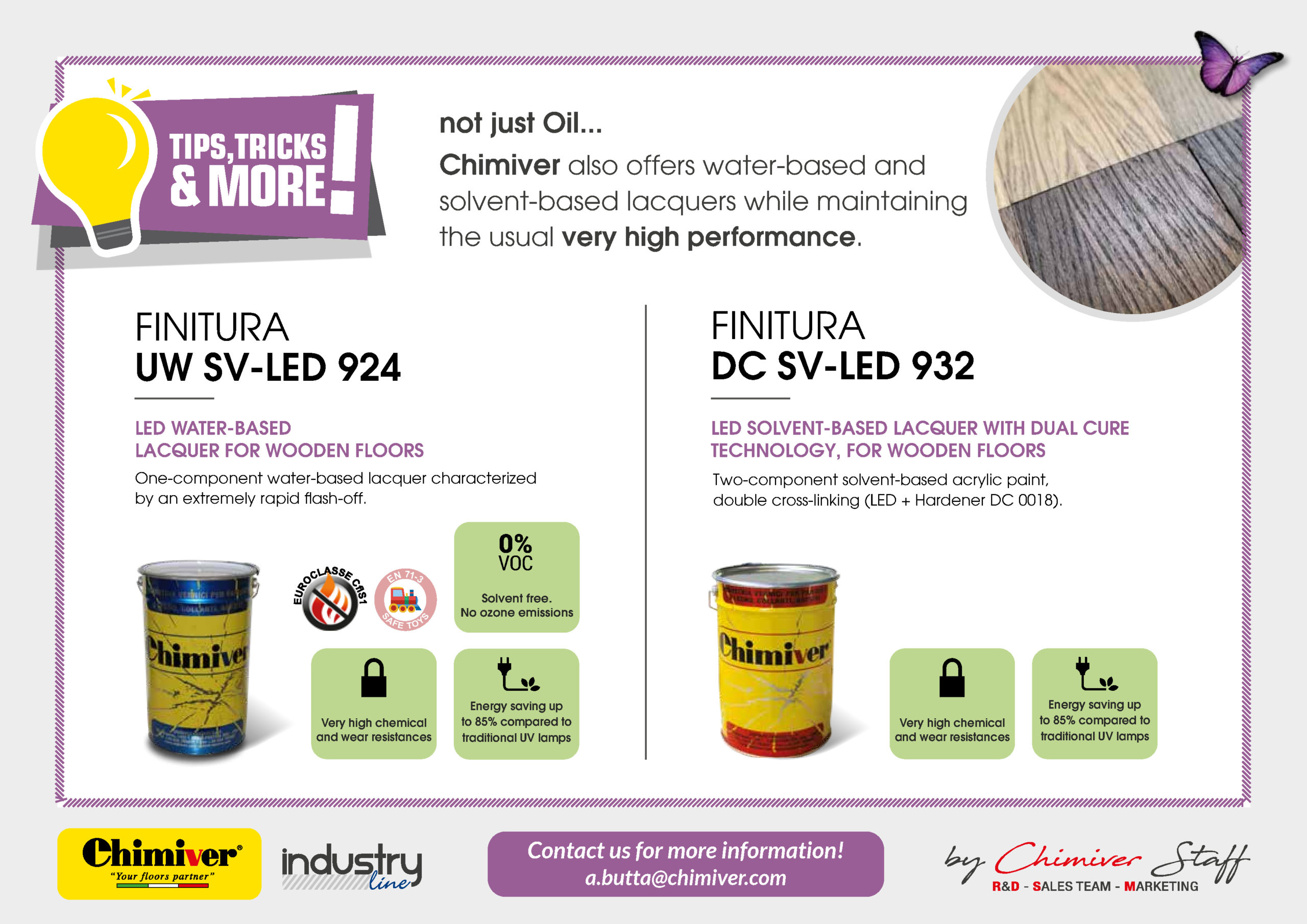 It is also important to underline how the choice of photo-hardening using LED lamps guarantees the same performance and quality compared to traditional technologies.
Would you like to know more?
Our experts are at your disposal for further information and to offer you personalized tests, ask us for more at industry_dept@chimiver.com