septembre 27, 2022
Industrie
Professionnels
FIRE-RETARDANT LACQUERS: Definitions, Classifications and Uses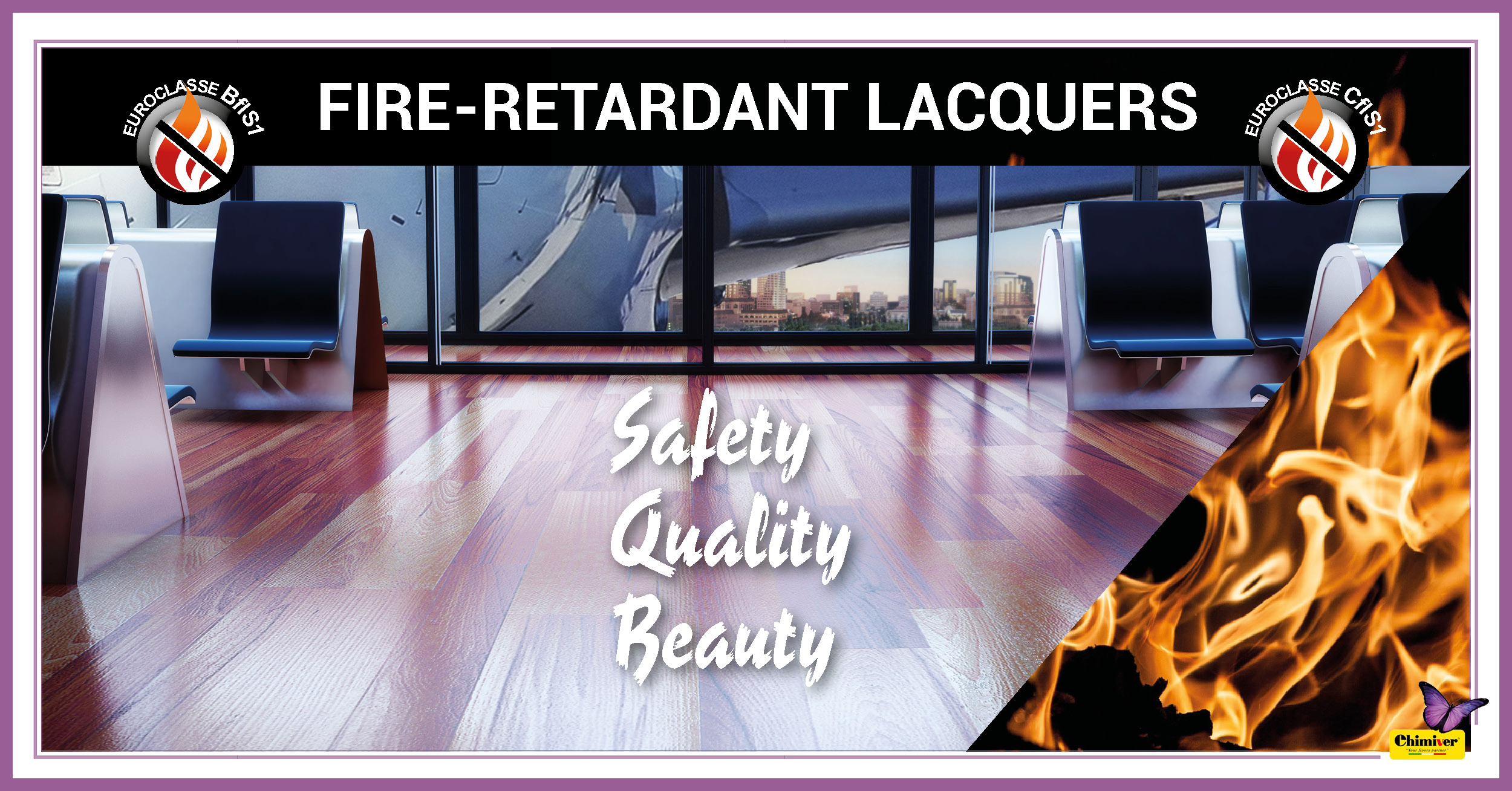 ACTIVE AND PASSIVE FIRE PROTECTION
Whether it is for private or public use, when it comes to wood and wood coatings, protection from fire becomes of primary importance and every structural element must be designed to resist and delay the spread of flames as much as possible.
Fire resistance means « the time interval, expressed in minutes of exposure of the structural element to a fire, during which the construction element maintains the design requirements of mechanical stability, resistance to combustion and thermal insulation « .
In general, fire protection systems are divided into two macro categories: active protection measures and passive protection measures.
All devices that play an active role in extinguishing the fire are part of the active protection, reducing the consequences of the fire both through immediate detection and through a rapid extinction. Active fire protection therefore presupposes that, following the detection of a fire, there is a consequent action to extinguish it. This category includes fire extinguishers, hydrants, smoke detectors, safety signs, emergency lighting, etc …
Passive fire protection, on the other hand, consists of a set of protection systems which, in the event of a fire, are able to protect and delay the flames without requiring any direct action. This category includes all systems that therefore generate fire resistance, such as fire barriers, ventilation systems, suction systems, etc …
Fire retardant lacquers are designed and developed with this function, they are able to protect structures, coatings and furnishings from flames, limiting the combustion of wood and slowing down as much as possible the spread of fire and smoke.
These are therefore very important passive protection devices that have the function of slowing down the action of flames in space and time, guaranteeing the safety for people and things. Every minute gained can be of vital importance to safeguard structures and, more importantly, people's lives.
USES AND CLASSIFICATIONS
Given the relevance and criticality of the topic, a dedicated legislation has been defined to allows an assessment of the ability to protect against fires.
The Italian legislation for the purposes of fire prevention is articulated on a range from 0 to 5, where 0 indicates the non-combustible materials and 5 those elements that participate the most in combustion (references DM 26/06/84, DM 06/03/92 and DM 03/09/01).
By its nature, wood is classified at the highest levels of combustion (class 4 or 5) and can never be classified in class 0 as a « non-combustible » material
By correctly using quality fire retardant products and their application cycles, however, the combustion class of wooden floors can be improved. When the flames spread, the fire retardant lacquer act by creating a protective layer that works as an insulating barrier.
Thanks to the application of Chimiver fire retardant paints, exceptional results can be achieved, obtaining surfaces and coatings in Class 1, the best possible Italian classification speaking about wood materials.
As regards the European legislation, the references are the European Regulation 305/2011, the Ministerial Decree 10/03/2005 and the Ministerial Decree 25/10/2007, which regulate the fire classification of construction elements intended as products manufactured in order to be permanently incorporated in construction works. In this regard, one of the highest classes is the Euroclass CflS1.
The Italian legislation requires that fire retardant lacquers are mandatory in the case of places open to the public such as:
schools and offices,
health facilities,
theaters, cinemas, discos,
churches and worship places,
railway and airport stations,
shops and shopping centers,
trade fair structures,
hotels and catering facilities,
gyms and wellness centers.
Of course, all high-traffic surfaces require periodic maintenance to ensure that the protection offered by fire-retardant paints is always maximized. The frequency of application depends on various factors and the type of public structure.
THE FIRE RETARDANT LACQUERS ACCORDING TO CHIMIVER
Chimiver has always worked following two essential principles: safety and quality. Over the years, the company has developed a range of fire retardant paint products that meet the highest safety requirements while enhancing the colors and the natural beauty of wood and parquet.
The fire retardant lacquering solutions developed by Chimiver laboratories include primers and finishes (both water-based and solvent-based) among which the following products stand out in compliance with the EN13501-1 standard:
LED HARD WAX OIL: wax oil hardening by led, applied by a spreader.
Fire resistance: CflS1 certified (total weight of 20 g / m²)
FINITURA UW S-LED 924: water-based lacquer hardening by led, with application by spray or veil.
Fire resistance: CflS1 certified (total weight of 200 g / m²)
FONDO ACR 214 + FINITURA ACR 771: two-component, non-yellowing acrylic cycle with application by spray or veil
Fire resistance: CflS1 certified (total weight of 200 g / m²)
UV OIL ONE 1317: oil hardening by UV, applied by coating machine.
Fire resistance: CflS1 certified (total weight of 25 g / m²)
FINITURA UW SV 617: water-based lacquer hardening by UV, with application by spray or veil.
Fire resistance: CflS1 certified
FINITURA AC-FR 411: two-component acrylic lacquer with application by spray or veil.
Fire resistance: BflS1 certified (total weight 200 g / m²)
ECO V: single-component water-based lacquer, with a reduced content of volatile organic compounds and suitable for wooden floors with heavy traffic.
Fire resistance: CflS1 certified (total weight of 130 g / m²)
ECOSTAR RF 15T: two-component polyurethane water-based lacquer, fire resistance certified Italian class 1 and recommended for the treatment of wooden floors. It is formulated to meet the highest anti-slip standards of wooden surfaces in sports centers.
Fire resistance: Italian Class 1 certified (total weight of 240 g / m²)
Euroclass CflS1 (total weight of 140 g / m²)
Each Chimiver treatment guarantees the highest fire resistance while ensuring excellent durability even on floors subject to heavy traffic. Continuous tests on raw materials during production and strict final tests allow us to guarantee the maximum safety and quality for each product range.
Would you like to know more? Our experts are at your disposal to answer any question and find the best solution for your needs, do not hesitate to contact us for advice.