September 18, 2023
PRESS RELEASE: Chimiver presents its first Sustainability Report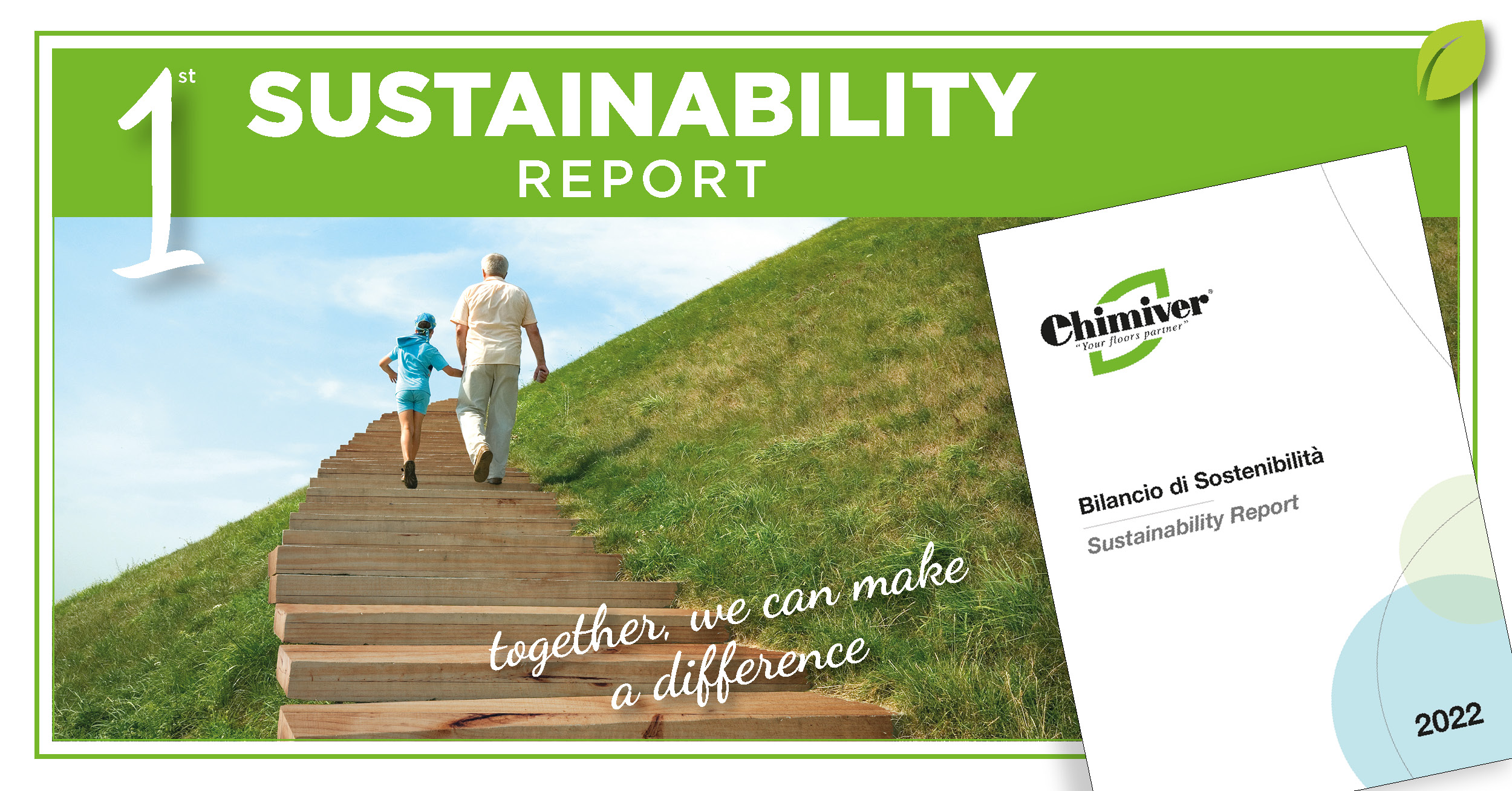 September 18, 2023, Pontida (Bergamo, Italy) – Chimiver, Chimiver, a market leader in the field of adhesives, treatment and maintenance products for wood, resin, and resilient flooring, is proud to present its first Sustainability Report. This report, referencing the year 2022, provides a detailed overview of the company's environmentally, socially and economically responsible activities and best practices.
Through this document, Chimiver aims to share the actions taken in recent years to promote responsible and ethical corporate management, along with the objectives and milestones set for the coming years. The company firmly believes that sustainability is no longer just an option but a necessity, not only to innovate products and processes but to do so responsibly by creating a genuine network throughout the supply chain.
"We are convinced that investing in sustainability is not only a moral duty but also a strategic choice to ensure a better future for all. We are ready to work together toward this common goal" states Oscar Panseri, CEO of the company.
"We are aware that to be sustainable – and to contribute to the achievement of the development goals outlined in the 2030 Agenda – we must act in favor of all sustainability thematic areas. This is why we continue to invest in research and development of solutions that meet market needs, and why we have adopted corporate management policies and strategies focused on improving our ESG (Environment, Social, and Governance) performance At Chimiver, we give the same attention to social and governance issues as we do to environmental aspects. In fact, we promote diversity and social inclusion by collaborating with charitable organizations that support local and international communities. We know there is still much to do and it will require the commitment of everyone to achieve the medium and long-term goals. We will need the strength of Chimiver's people, the precious engine of our company, and dialogue with all our stakeholders to share best practices, ideas and opinions."
The publication of the first Sustainability Report, voluntarily prepared well in advance of European regulations, demonstrates Chimiver's commitment and dedication to sustainability and the country's growth.
Choose Chimiver, together for a sustainable future.
About Chimiver Panseri S.p.A.
Chimiver Panseri S.p.A. manufactures and markets adhesives, finishings and detergents for wood, resilient, synthetic grass and resin flooring, providing specific solutions for all indoor and outdoor surfaces. Chimiver is currently present in more than 60 countries worldwide and speaks to a diverse audience of industry professionals, installers, as well as industrial and private clients. The company's success originates from its ability to deliver value and innovation in a highly competitive and evolving flooring market, thanks to its continuous research and development activities and a highly specialized R&D laboratory. Chimiver, well ahead of current regulations, has embarked on a virtuous path towards sustainability, leading to the creation of its first Sustainability Report.
The Sustainability Report is available at the following link: www.chimiver.com/en/sustainability/